It's quick and easy to create a presentation from a template. Once you know which template tells the story you need, follow these steps.
Click or tap the template on the Sales Explorer. You're prompted to enter a few values, including the template name. The example below shows a presentation being created from a template called "Auto Dealer Report."

In the Report Title field, give your new presentation a meaningful title (it can be as simple as appending the name of the business or market). If you create a lot of presentations from the same template and never rename them, it can quickly become confusing.

Fill in the necessary inputs for the template. Your template might have default values (as shown in the example above) or no values at all. You can clear default values by clicking the X. Start typing in the field to enter a new value; the system will begin to match the string as you type.

Validate the settings in Share Settings. By default, presentations are public.

Click or tap Create to generate your presentation.

Click or tap Save Presentation.
The following graphic shows a presentation generated from a template designed to show how your station captures the target market for your local auto dealer, what they plan to buy, and how much they plan to spend.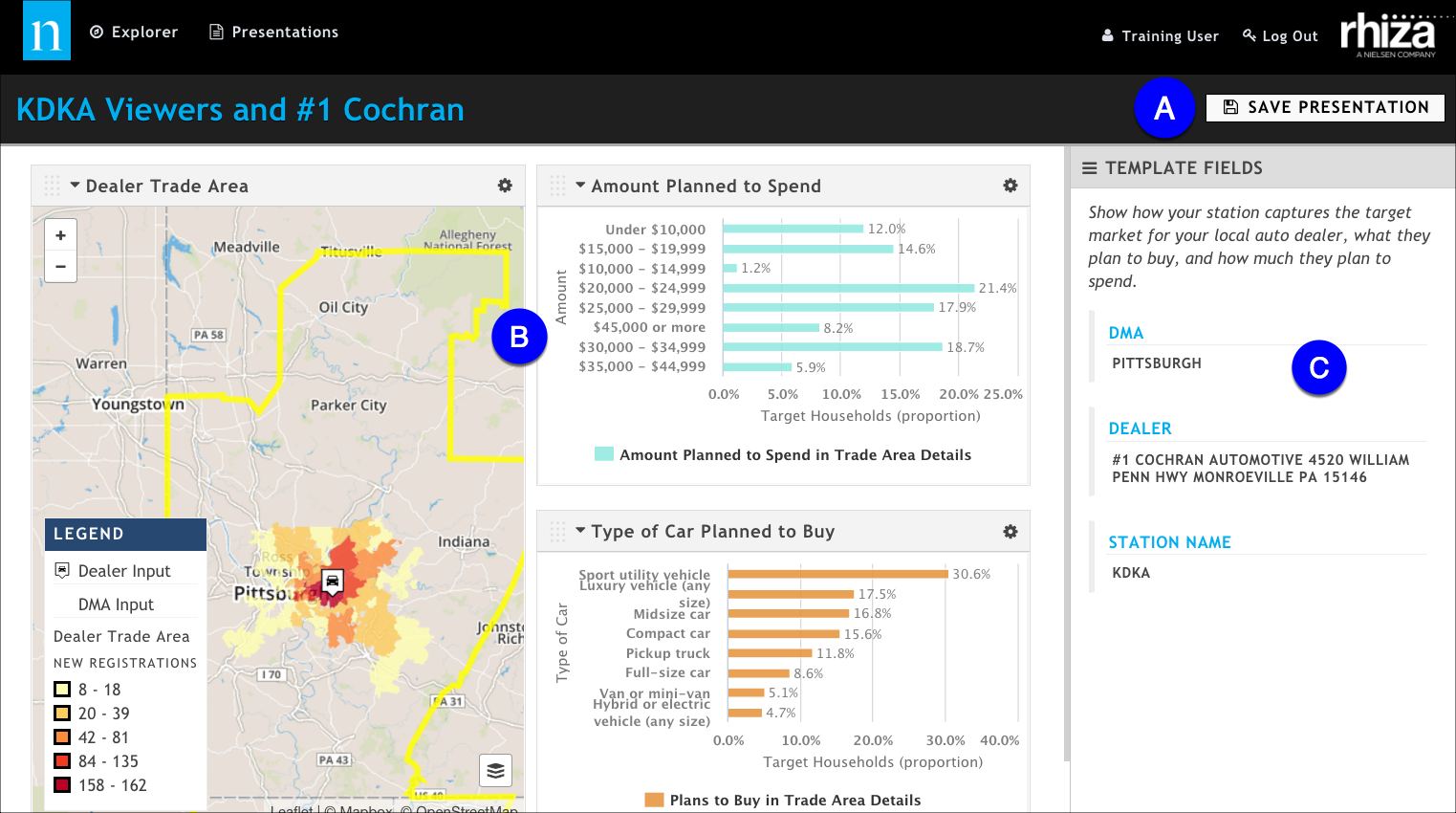 (A) The Save Presentation button. Once you click this, you can generate and download a PowerPoint. Any changes you make are automatically saved.
(B) The main body of the presentation.
(C) The Template Fields panel. These are the values you entered when you created the presentation from the template. You can hide this panel (use the hamburger icon) if you are showing the presentation online. The fields are also editable, if you decide you want to look at a different dealer or station. For more information, see Updating Template Values in a Presentation.
If you want to customize your presentation by updating labels or changing certain configuration options in your visualizations, see Customize a Rhiza Basic presentation.
You can share your presentation with a client on a computer or tablet. You can also export it to PowerPoint to share. See Generate a Microsoft Power Point Version of Your Presentation.